FAQ

Frequently Asked Questions
How do we apply for a marriage license?
At the clerk of circuit court. The fee is $93.50. Florida residents have a 3 day waiting period but nonFlorida residents there is no waiting period. You must present your license before the ceremony can begin.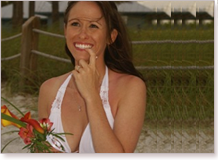 What happens if it rains?
Luckily Florida is nicknamed the Sunshine State. We do however offer several solutions to the rain. However, strong winds and lightning are our enemies on the beach. If there is lightning we cannot allow you, guests, or our staff on beach for obvious reasons.
* We can postpone to another day and all monies will be applied to your new date.
* We can get WET! We don't mind playing in the rain and it could make for a very memorable day. It does however make for an excellent hair day. (ha ha)
* You could have a backup location set in place just in case and we do recommend this for every wedding.
Do you offer receptions?
Although we personally do not do receptions we will be happy to assist you in finding the perfect persons that would love to do your reception.
Are the pictures done by a professional photographer?
We are staff photographers of The Wedding Kiss, Inc. and pride ourselves on beautiful pictures. We take an average of 100 photo's per wedding. We also can assist you in finding a "professional photographer".
if you would also like traditional portraits done. We also encourage your friends and family to take as may pictures as possible. You can never have to many memories. Look on our a la carte selection to add disposable camera's for your friends and family.
Can I order more photo albums or pictures?
Sure you can, all additional photo's and albums are available on our a la carte selections.
How do we choose a location?
Locations vary from every bride and groom and it is your choice. Give us a call and we will be happy to assist you with that special place. We can even come to your home to perform the ceremony.
Where are you located?
We are located on the beautiful Gulf Coast Florida just North of Tampa . We are very close to a lot of attractions and award winning beaches.
1497 Overland Dr.
Spring Hill FL 34608
Can we meet with you prior to the ceremony?
Sure you can! As much as you want.
Do you offer discounts?
Yes we do, our standard discounts is for our military or our Monday through Thursday ceremonies. Check out our specials page for any additional promo's.
Are you a wedding planner?
We don't consider ourselves as wedding planners but as a friend. We will try to assist you and offer suggestions concerning your wedding that is above and beyond your actual ceremony. We can recommend a variety of vendors pertaining to travel, hotels, receptions, etc.
Do you need a license for vow renewals?
No, you do not need a license for the renewal of vows.